She looks in the mirror and smiles, happy with the woman staring back at her. Her hair isn't perfect and neither is her complexion. Her body isn't like it was when they were married several years ago. Her house isn't fancy; it's a home, where friends are always welcome and toys carpet the floor. It's a home built with love, sacrifice, hard work and most of all...the grace of God!
God's grace -it's what fills me with joy today and gives me the freedom to smile back at the reflection in the mirror that for so many years I viewed with sad eyes. These eyes saw only what man sees: curly hair when others had straight, a forever-tan when everyone else I knew was as fair as snow, a need to be perfect at everything even if only to gain my own approval, a desire to be accepted just the way I was, when all the while I was loved and accepted more than I could ever imagine...I just needed the freedom to see it with my eyes.
I needed to see me the way HE sees me!
Did you know that
you
are created in the very image of God? He knit
you
together perfectly!
You
are
His
one-of-a-kind, priceless work of art; a masterpiece, designed by the Creator of the universe!
Genesis 1:27 "So God created mankind in his own image, in the image of God he created them; male and female he created them."
Psalms 139:14 "I praise you because I am fearfully and wonderfully made; your works are wonderful, I know that full well."
As women, we are especially hard on our selves. We want (and society tells us) that we can
have
and
be
anything we want. We grasp at success in every area of our lives while attempting to maintain the status quo. Fear, Discouragement, Failure, Discontentment, Disappointment and Low Self Esteem are eager to join us on our journey. These companions travel life's road with us, continuing to feed our minds with lies and unrealistic expectations, reminding us that we will never measure up to the standard set either for us or by us.
But
you
don't have to travel that road any more!! Holly Gerth, has written an incredible new book,
"You're Already Amazing - Embracing who you are, Becoming all God created you to be!"
Here she exposes the lies that the world feeds us and gently points out God's truth. Each chapter is woven together with Biblical wisdom, encouragement and thought-provoking questions that nudge the reader to dig deep to the source of their insecurities. Holly then gives the reader truths from God's Word to fill their heart, soul and mind. She invites you to embrace the idea that God created you (Genesis 1:27), He loves you (Jeremiah 31:3) and He has bigger plans for you than you could ever image (Jeremiah 29:11)!
"Even if we've never met, I know this about you: you're a daughter of God, a holy princess, a woman created with strengths that you've yet to fully grasp and a story that's still being written by the divine Author himself. And if you really take hold of who you are and what you're called to do, there will be no stopping you. That's because there 's no stopping him in you-and he's got bigger plans for your life than you've ever imagined." ~

pg 11-12

.
Amen!! God desperately desires that you come to a knowledge in (1) Him as your Savior and (2) the amazing creation
YOU
are, gifted with talents, abilities and a calling just for
YOU
! Regardless of where you've come from or the lies you've been told ,
YOU ARE ALREADY AMAZING!!
Dayspring has also launched a line of coordinating products to accompany
You're Already Amazing.
They were generous enough to send some of the encouragement cards for review as well. The entire line of items make a great gift for Mother's Day, a friend's birthday or "just because". The book is also a great choice for your small group, Bible study or book club. This month, Dayspring is featuring all these items and many more at 25% off! PLUS: Don't miss your chance to enter our giveaway below for your chance to win a $20 coupon to Dayspring online. Click on the image below to see all the entire Holly collection.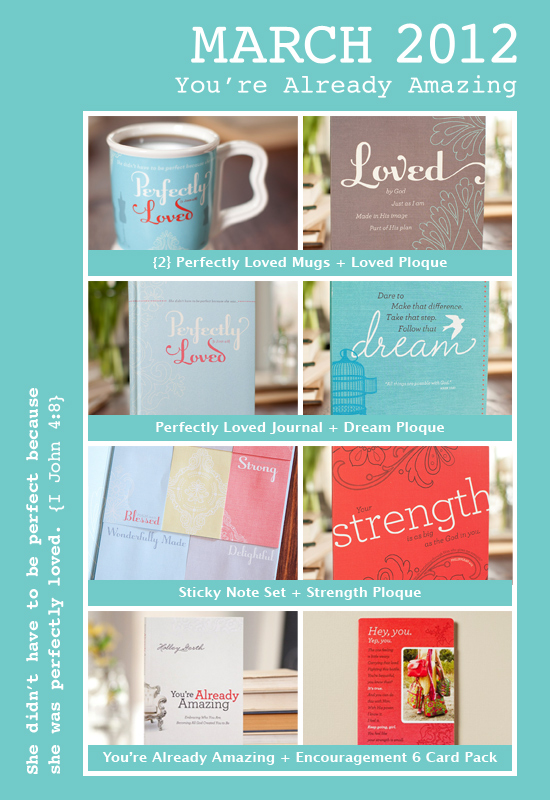 a Rafflecopter giveaway