I love to go shopping! When my mother-in-law comes to town, that's one of our favorite ways to spend time together. Neither of us are big spenders, more like professional window-shoppers :). But we both have a weakness for makeup & cosmetics. Sephora & Ulta are a MUST on the shopping circuit!! So I thought I would share a few of my favorite skincare/makeup/cosmetic products.
Foundation
-
Napoleon Perdis China Doll
- I've tried everything from drugstore discount makeup to high-end, expensive brands. I have dry skin, and this foundation is hydrating and oil-free. It can stay on all day without drying out, and becoming flaky. So for me, this is well worth the money! It covers so well!! You do not need a separate concealer (even for those dark circles or acne blemishes). A little goes a long way so the tube lasts a long time.
Mascara
-
Maybelline Falsies Waterproof Mascara
- Tried and true...Maybelline has mastered the mascara industry (in my humble opinion...lol). I used to love the original pink and green tube of "very black" mascara. That was until I tried the new line of
Falsies
. My lashes are average and this mascara gives them both length and volume. Best of all it's very affordable!
Eyeliner -
Maybelline Unstoppable Eyeliner
- Not only does Maybelline make an amazing mascara, but their eyeliner is also amazing! It's the only one I will use!
Unstoppable
lasts all day without smudging and I don't have any problems wearing it with my contacts. It's a must!!
I never thought much about my skincare until my early 30s when I began to experience adult acne. Again, after trying products ranging from the common name brands to the expensive cosmetic lines, I finally found a cleanser, moisturizer and makeup remover that work (at least for me they are wonderful ;) ).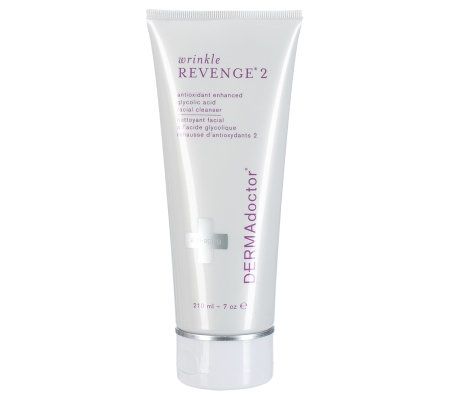 Dermadoctor -
Wrinkle Revenge 2
- Dermadoctor products were created by a dermatologist.
Wrinkle Revenge
comes in three stages 1, 2 & 3. I started with 1 which tingled the first few times I used it. It cleans deep into your pours. I have noticed fewer breakouts, and my skin looks brighter. This anti-aging cleanser has glycolic acid in it which helps with fine lines too.
Dermadoctor -
Litmus Test pH Correcting & Renewing Glycolic Acid Facial Moisturizer
- Can you tell I LOVE this line of products??
Litmus Test,
which also has glycolic acid in it to help with the onset of fine lines and wrinkles, is by far
the best
moisturizer I've ever used!! Since part of my face is very dry, I have always used heavy creams to moisturize, which in turned contributed to my acne as I got older. After moving to the desert, I had to find something that would hydrate my skin all day without making it oily. This product is so great, it was endorsed on The Doctors as a great Valentine's Day gift a couple years ago! It's not cheap, but it's worth every penny!
Neutrogena - Makeup Remover Cleansing Towelettes, Night Calming - Before I lay my head down on my fluffy pillow, I have to take my makeup off. (This is new for me because until this whole acne thing, I never bothered t
aking my makeup off at night. Now my skin doesn't give me that option.) These towelettes are great. They are easy to use, and remove all my makeup, including my waterproof
Falsies
mascara.Twenty-five come in a pack and they stay moist all month (which surprised me because I didn't think the resealable package would really work, but it does!). They leave my face so soft and hydrated that I don't even have to use any other moisturizer at night! (That makes
Litmus Test
last longer :) ). The light lavender scent is so calming and relaxing that I look forward to using them right before bed each night. Oh, and they are at any Target, Walmart, Ulta or drugstore for under $7.00!!
So these are a few of my favorites, I'd love to hear what yours are. Leave a comment or let's continue chatting on our
Facebook page
. I look forward to talking with you! :-)