"She makes linen garments and sells them,

and supplies the merchants with sashes." Proverbs 31:24
Do you have a talent? Is there something you do especially well? Maybe it's something that your friends and family recognize and praise, like your cooking or baking. Maybe it's something you've never considered as a talent like being able to teach or encourage. God has made each one of us with special gifts and abilities. He desires that we recognize our talents, work diligently at them, and use them to serve others and glorify Him.
"We have different gifts, according to the grace given to each of us. If your gift is prophesying, then prophesy in accordance with your[a] faith; 7 if it is serving, then serve; if it is teaching, then teach; 8 if it is to encourage, then give encouragement; if it is giving, then give generously; if it is to lead,[b] do it diligently; if it is to show mercy, do it cheerfully." Romans 12:6-8
The Proverbs 31 woman is wise with her time. That alone is a talent! We've seen in the past few days how easily it is to waste time and how much work it is to be diligent with our time. After what we have already seen of this extraordinary woman, it may be surprising that she has any time left!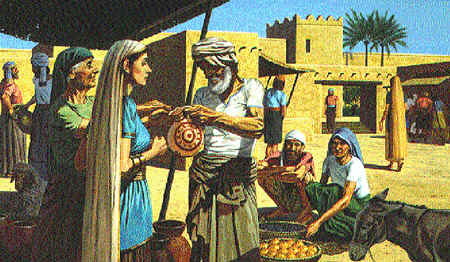 Verse 24 says that she "makes linen garments and sells them and supplies the merchants with sashes." On top of her responsibilities at home, she also is a business woman! Her talent was making fine garments: "She selects wool and flax (vs 13)", "She grasps the spindle with her fingers (vs 19)," "She makes coverings for her bed (vs 22)". She was a seamstress. She made garments for her family and then made extra to sell in town. She used her time to help her family out financially. In these very difficult economic times, our family's finances may need our help more than ever. If your family is struggling to make ends meet each month, maybe there is a way you can contribute if you aren't already. I live in Las Vegas. Our city has been one of the hardest hit by the nation's economic crisis. Let me tell you about three of my girlfriends, all SAHMs, all with children still at home, all needing to contribute to their homes financially.
"Angie & Kim" - Both of these woman love God and their families. They serve Him at home and in their churches. They both love children and are amazing mothers! They have turned that love into an opportunity to help out financially. Each provide in-home daycare. They are still able to be SAHMs and use their time and talents to help meet their family's financial needs.
"Holly" - She too loves her husband and children dearly. She leads woman Bible studies and is an outstanding example of God's grace, forgiveness and love. Did I mention, she makes the most amazing cakes!!! Recently, she started doing this on the side for birthdays, baby showers and other events. She is taking her time, using her talent and contributing to her family's resources.
Now it's your turn. What is your talent? How can you use your time and talent to benefit your family financially? Is now the right season in your life to explore this area? To everything there is a season. Now may not be the right time for you to pursue your talent in this fashion. For someone else, this may be the perfect time to step out in faith and see where God is taking this talent or dream of yours. Give it to Him. He knows your needs and desires.
He will provide all your needs!
Challenge: Search your heart. Pray and ask God to reveal your talents to you. Seek His will and timing in using them to help your family financially.
Until Tomorrow Friends...
Be Blessed & Be a Blessing!
Don't forget to visit these contributors of 13 Blogs, 13 Topics, 1 Great God!