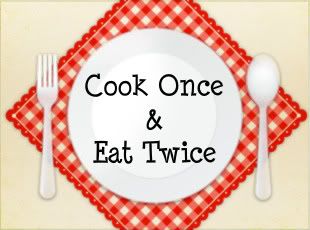 With my mom having surgery on Tuesday, dinner is that last thing I want to worry about this week. But, I don't want my family dinning on a steady diet of fast food either. So I decided to minimize the cooking and maximize the meals.
This week's menu is all about cooking one meal and reusing the leftovers in something totally different. For example, on Monday make BBQ country style ribs. Before putting the leftovers away, take a fork and pull the meat apart. Voila! Your sandwiches are ready for Tuesday night's dinner. I purposely made the sides quick and easy too this week. Most of them can either be made up ahead of time (baked beans, coleslaw, au gartin potatoes) or they take less than 5 minutes to prepare (buttered peas and onions, steamed broccoli, salads).
So don't let a busy week be an excuse to take the easy way out. You're tummy, wallet and family will thank you!